Networking, Workshops and Programs
We provide engaging learning opportunities and networking events to connect our business community. Join us!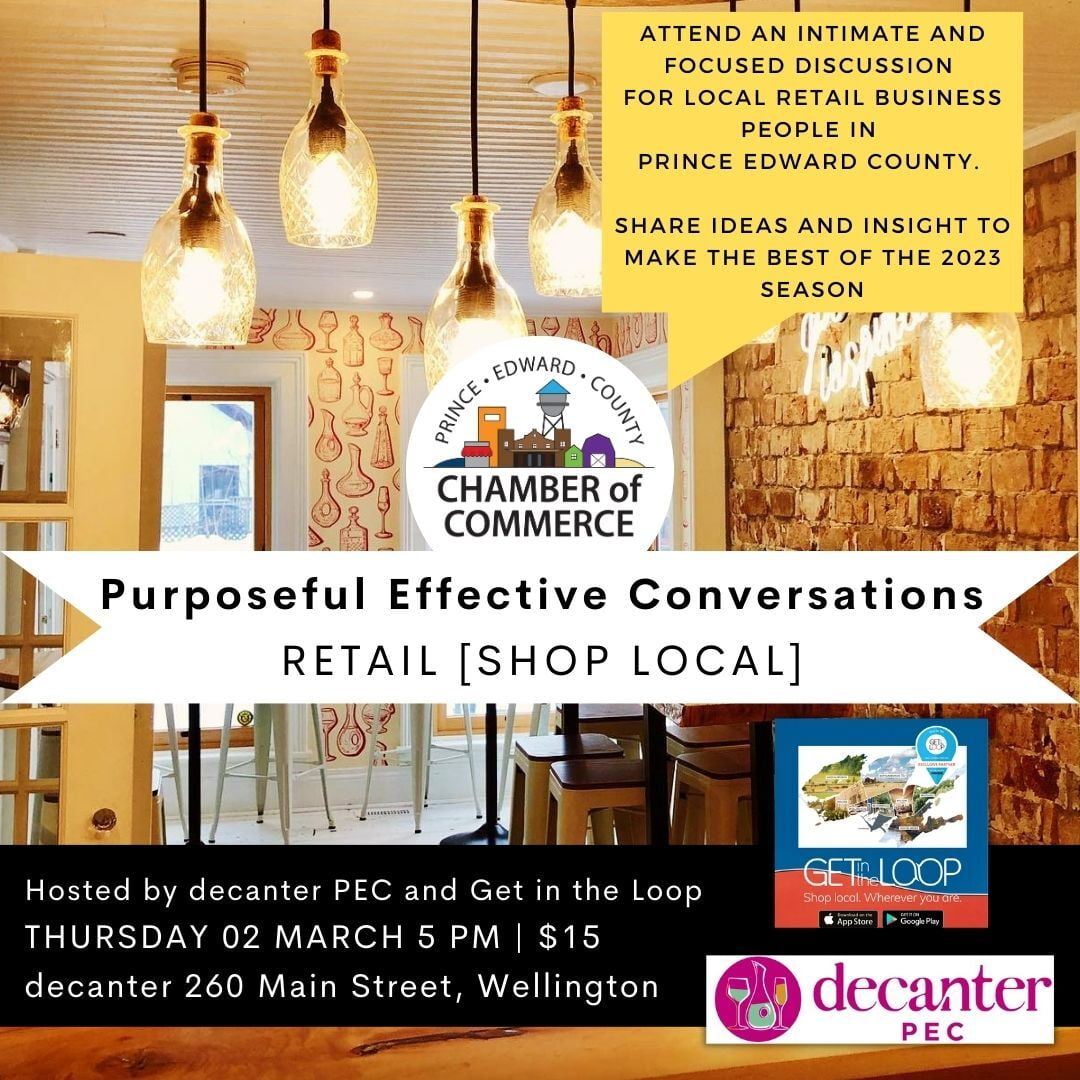 Purposeful Effective Conversations (PEC)
Thursday 02 March, 5:00pm at decanter PEC – Retail Sector
Join us for the first PEC, an intimate and focused discussion for local retail business people in The County.
We will talk about challenges and opportunities faced by fellow PEC Chamber members in an intimate set-up, where everyone in attendance will have a chance to speak up and share ideas, solutions, and stories. If possible, please let us know in advance what topics you would like to bring to the table when filling the registration form.
With thanks to our generous hosts and sponsor, MJ and Angie (decanter) and Tracey Dickson (Get In The Loop), you will enjoy a complimentary welcome drink and a delicious grazing spread. A cash bar will also be available with a selection of local wine and beer.
*There will be no refunds for this event ***This event is for members only.
**Space is limited and registration ends on February 28, so please reserve your spot asap if you would like to join us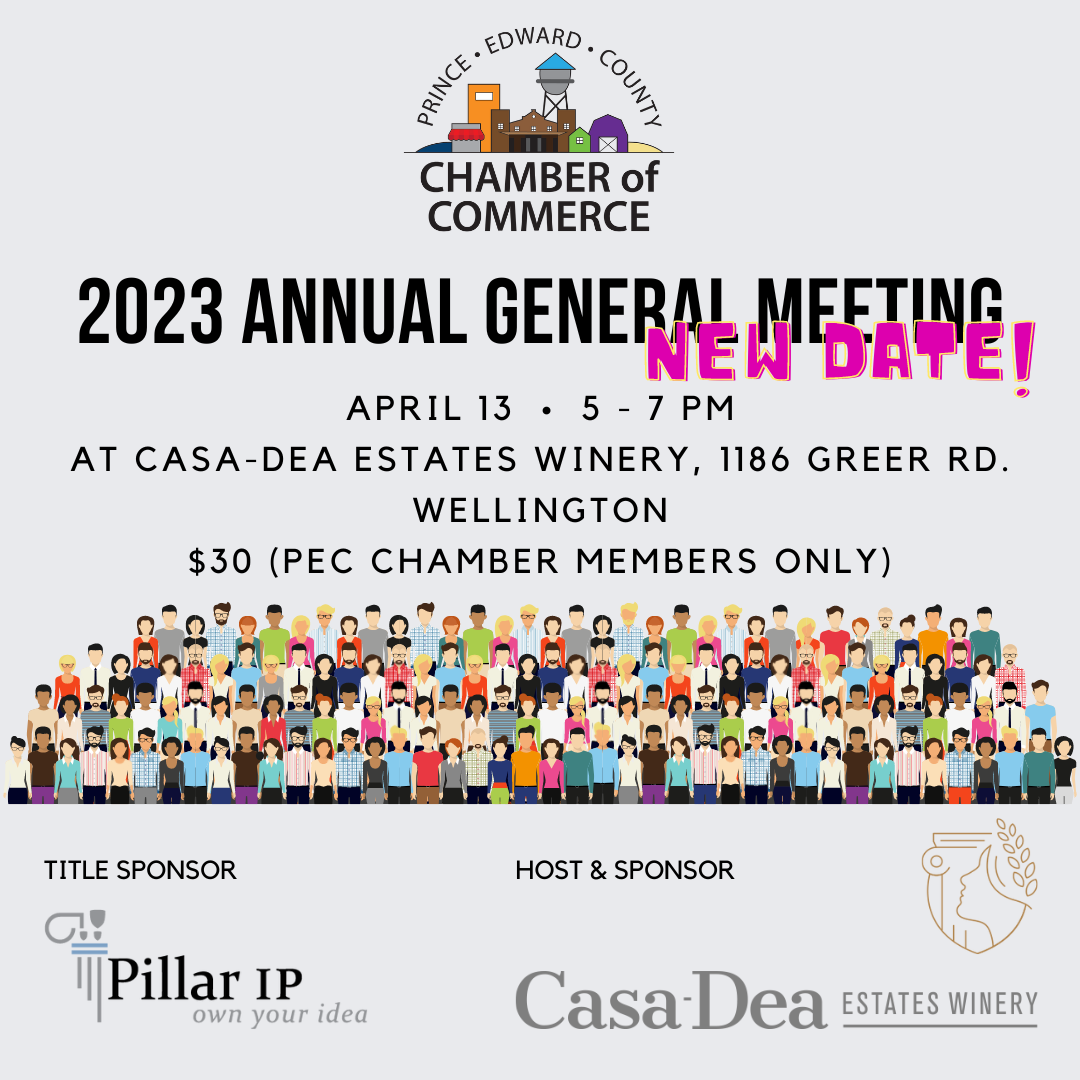 Annual General Meeting
Thursday 13 April, 5 - 7:00 pm at Casa Dea Estate Winery
We all look for opportunities to ensure the local voice of business is heard. The AGM provides us with an opportunity to celebrate the achievements of the past year and review where we are headed, together as a collective in the Chamber, so that you can be confident your voice in business is having an impact.

Network, meet new members and reunite with old friends. Learn what your PEC Chamber was up to in 2022, vote on mandatory agenda items, meet the Board of Directors, and learn from Heather Boyd, owner of Pillar IP an intellectual property specialist with her key-note address:
YES! You Have IP - Exploiting and Leveraging Your Intellectual Property as a Business Asset

A charcuterie-style spread is included in the ticket and a cash bar will be available if you wish to purchase beverages.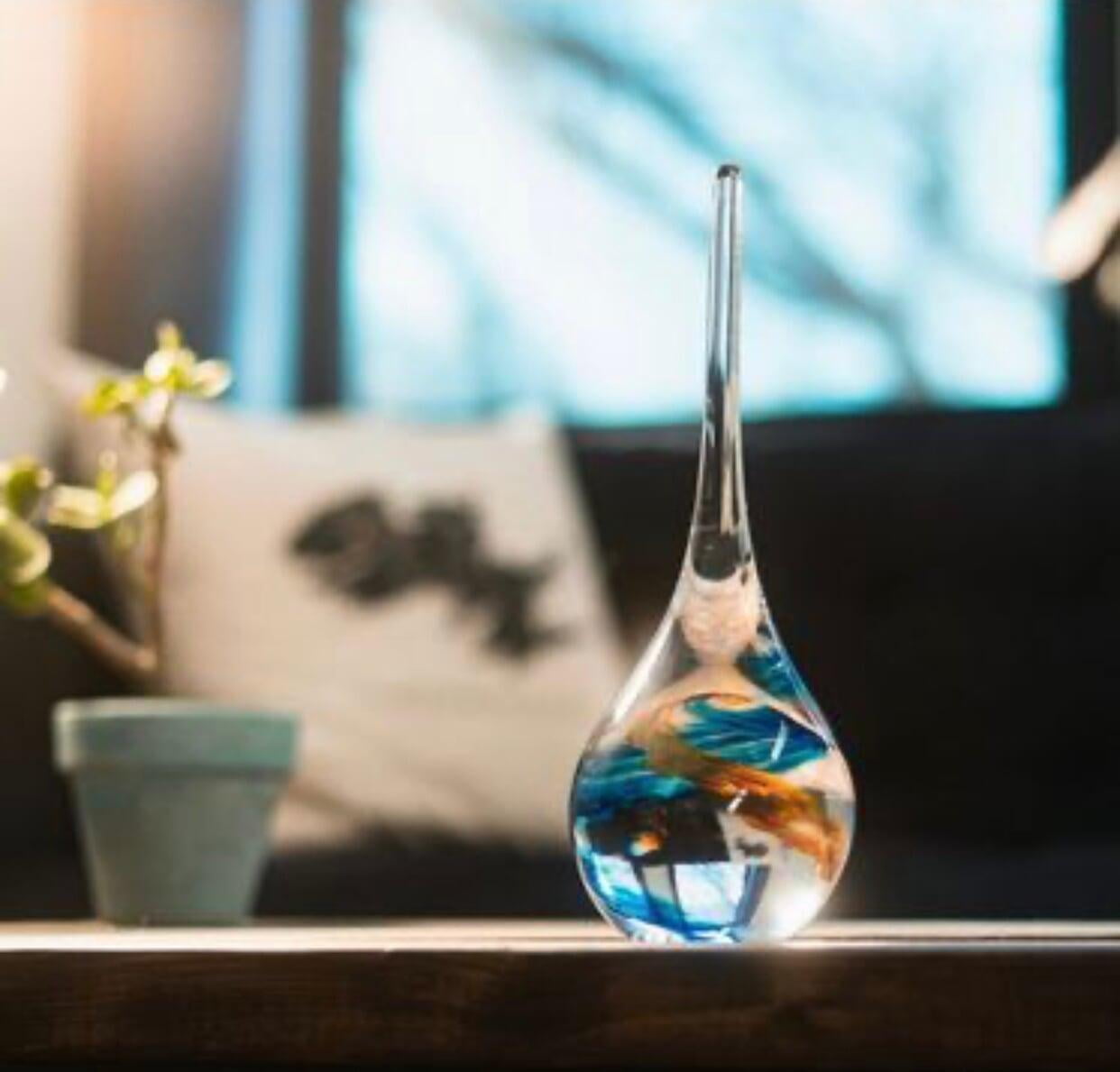 2023 PEC Business Excellence Awards
Thursday 9 November, 6:00pm at The CAPE – In-Person Event
This event and awards ceremony celebrates the contributions of business-people and features organizations that exemplify leadership and business excellence in our community.
Your ticket includes:
Complete

venue access to all 4 salons
(

Joplin Room, Robbie Burns, Mark Twain,

Odyssey Ballroom)

Reception catering by Matt DeMille (canapes, food stations, sweets)

Soft Bar

Music and Entertainment

Cash Bar
Prince Edward County Business Excellence Awards is a completely independent program, open to any business, entrepreneur and not-for-profit organization based in Prince Edward County.