Networking, Workshops and Programs
We provide engaging learning opportunities and networking events to connect our business community. Join us!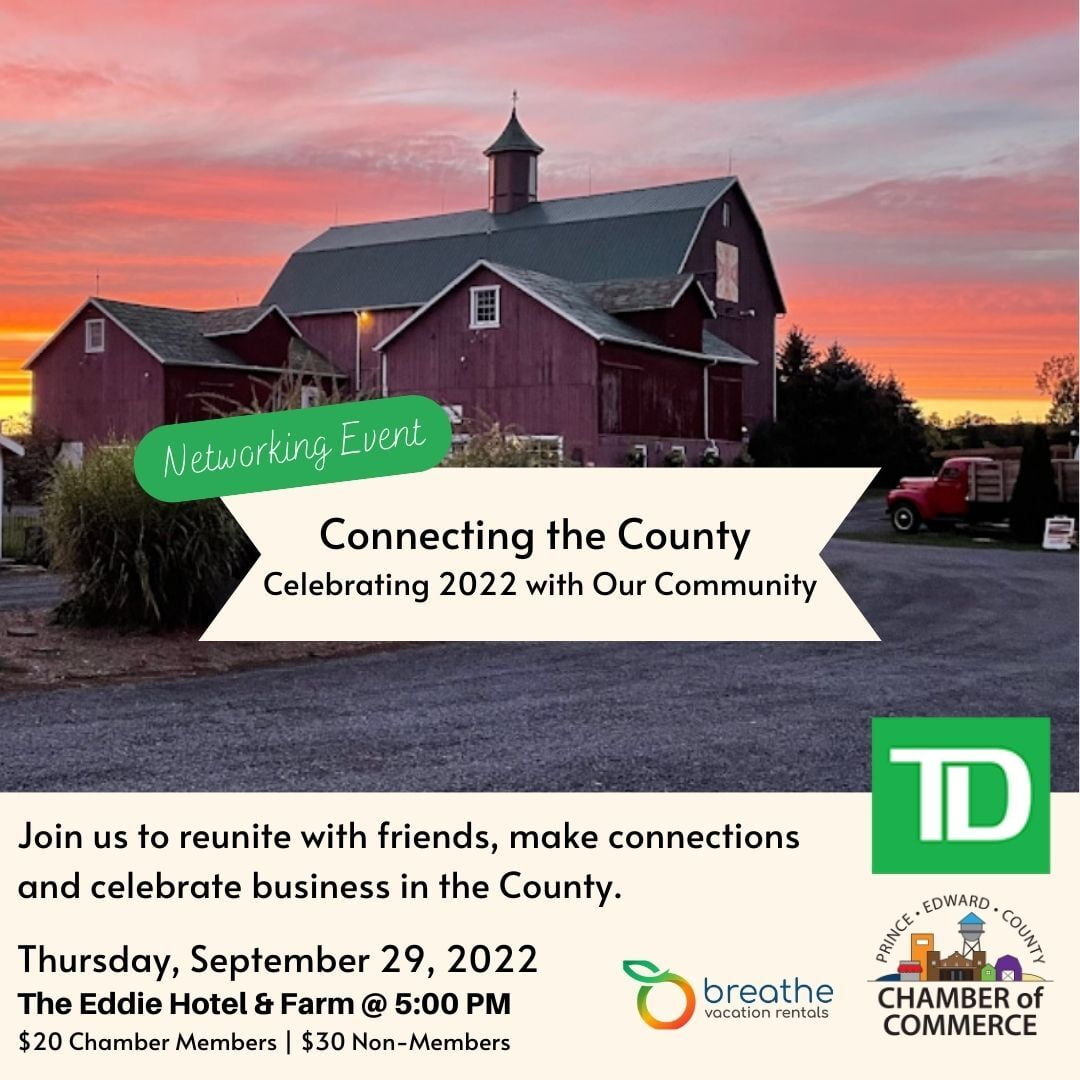 Connecting the County - Celebrating 2022 with Our Community
Thursday 29 September at 5:00pm – The Eddie, Wellington
A celebration with the business community offering an opportunity to network and learn from each other. The event will feature a curated cross-section of international food and drink to reflect the diverse offering in the County.
This evening promises to be a memorable evening with many opportunities to grow and foster your professional and personal network. With thanks to TD Bank and Breathe Vacation Rentals, you will enjoy a complimentary welcome cocktail and delicious canapés prepared by six different local chefs and restaurants that offer global fare. A cash bar will also be available. Dress for the weather, bring your great vibes and see you at The Eddie!
Take advantage of this fabulous opportunity to reunite with friends and make new acquaintances and celebrate with some old fashioned in-person networking.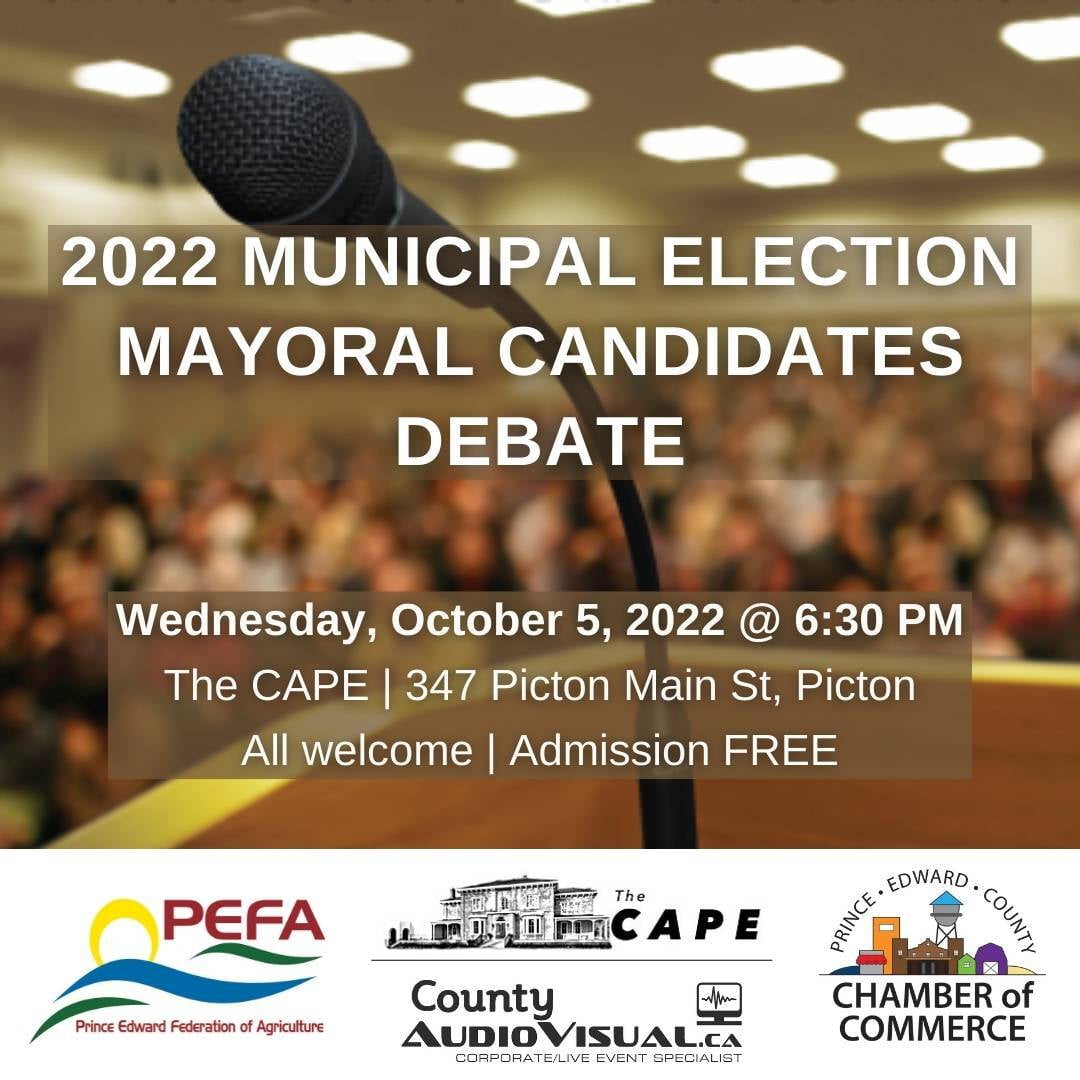 2022 Municipal Election - Mayoral Debate
Wednesday 5 October at 6:30pm – The CAPE, Picton
The start of a new term of council is an opportunity for reflection as well as a time to set goals for the next four years. The Prince Edward County Chamber of Commerce looks forward to the democratic process of our local election to champion The County's prosperity, diversity, and entrepreneurial spirit. To put its members' concerns' front and centre during the municipal election period, the PEC Chamber today released its 2022 Municipal Election Priorities Path to Prosperity for PEC Business and Community which provides candidates an outline of The PEC Chamber's key policy priorities.

"Businesses across The County are looking to the government to develop policies that will spur local economic growth and job creation," said Lesley Lavender, Executive Director of the PEC Chamber. "The municipality m­­ust create the right conditions to support business confidence, economic recovery, and prosperity. There must be a balance between short-and long-term solutions to address our current and future challenges."
NO REGISTRATION REQUIRED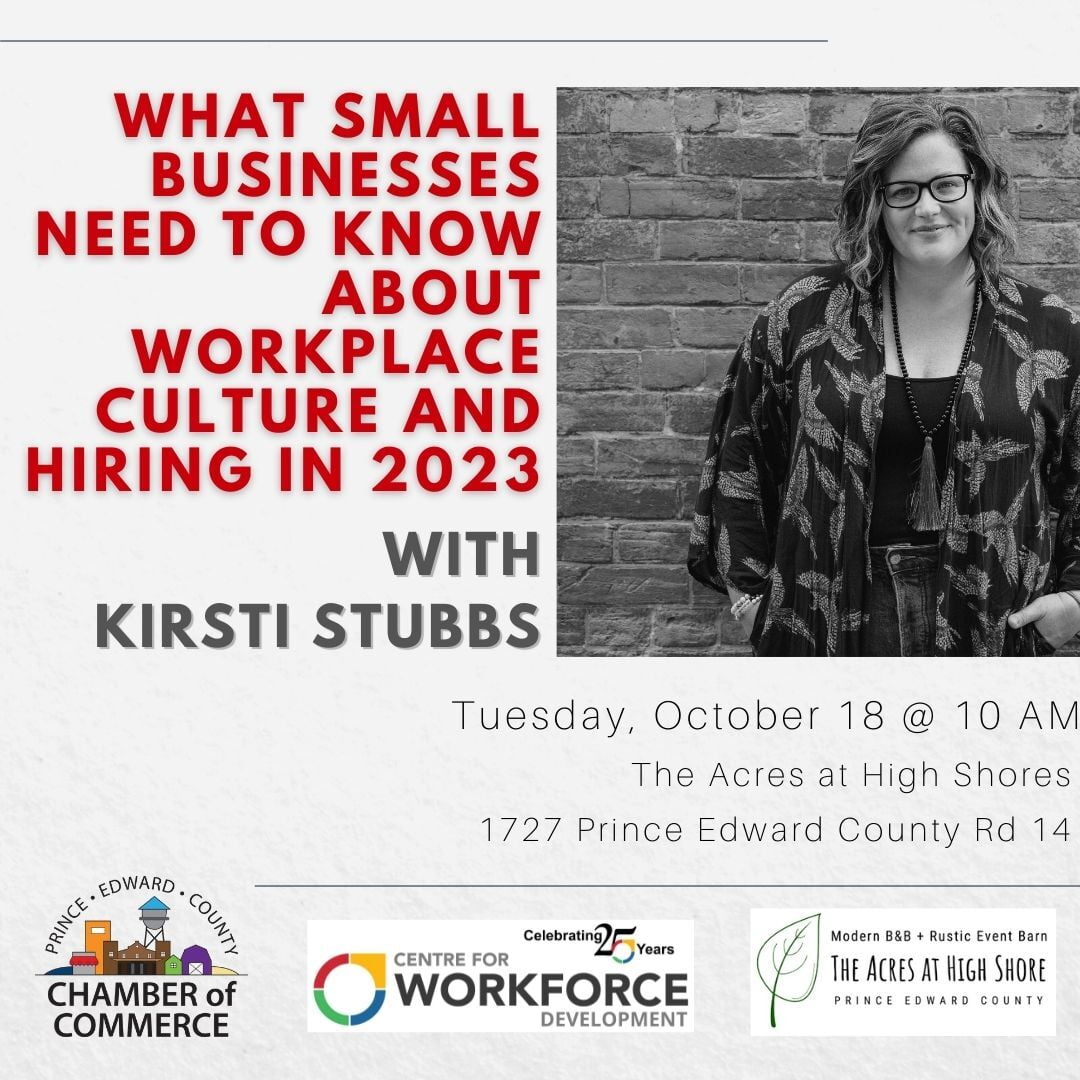 What Small Businesses Need to Know About Workplace Culture & Hiring in 2023
Monday 17 – Friday 21 October Small Business Week
Tuesday 18 October at 10:00am – Acres at High Shore, Ameliasburg
Facilitated By KIRSTI STUBBS
Clear and strong organizational culture can be an effective talent attractor and one of your most valuable assets, as it creates a safe and engaging environment that retains top employees. Kirsti Stubbs has been helping brands expand and companies hire for over 20 years. Her expertise has been recognized across industry, and she has been the recipient of awards including Best Social Media Strategy, Employer Brand and Top 30 Under 30 with the Ontario Hospitality Institute.

We had Kirsti speak during the 2022 Work Local Week back in March and it was a huge success! If you were there, you know how amazing she is, so please come back for another opportunity to learn and grow as an employer. If you haven't yet attended one of her speaking engagements, make sure you do this time; we promise you will leave with lots of ideas and resources to put into practice.
In this session, Kirsti will discuss the positive impact that fostering a great workplace culture can have in the hiring process and in the overall employee journey. She will share insights on how to create an attractive experience for both potential and current staff in the context of a highly competitive hiring landscape.
This learning event, organized by the Prince Edward County Chamber of Commerce and sponsored by The Centre for Workforce Development, is part of the 2022 Bay of Quinte Small Business Week, an annual celebration of entrepreneurship that brings the business community together to learn, network and celebrate the people building businesses across the region.
There are only 60 spots available - register today and guarantee yours!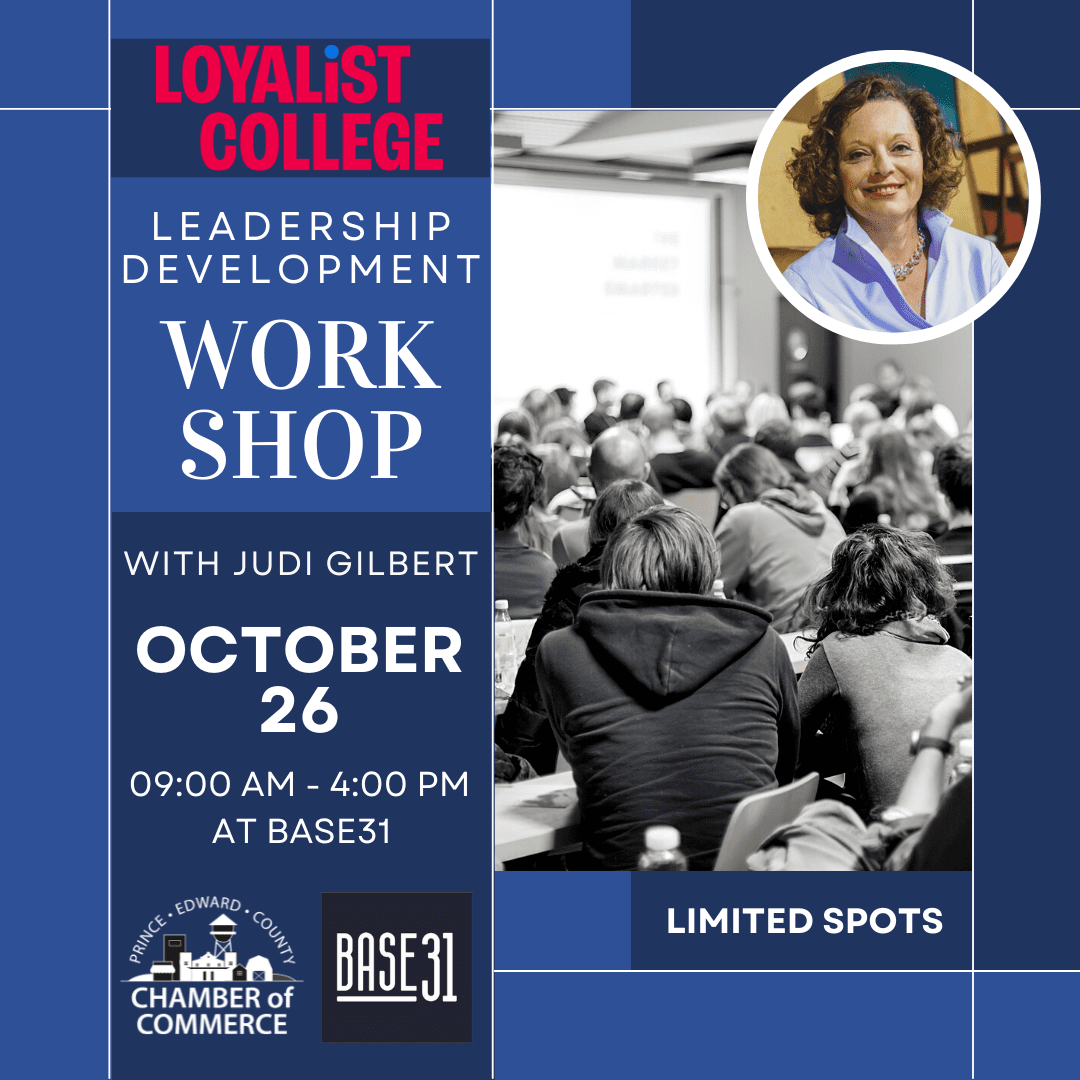 Leadership Development Workshop with Loyalist College
Wednesday 26 October at 9:00am – Base31, Picton
Facilitated By JUDI GILBERT
During this session, Judi Gilbert will focus on key areas and exercises that will help define personal leadership philosophy, recognize how actions and perceived values impact culture, and how to build trust amongst your staff teams. Additionally, ways to empower staff to embrace and utilize the leadership skills they possess will be explored. Judi will discuss how one can transition from being a manager to being a leader. The session will conclude with strategies that each participant can use in their leadership role.
Judi is a Certified Leadership Coach (CLC) and an Associate Certified Coach (ACC) with the International Coach Federation. She is an accomplished facilitator who has extensive experience working in both the public and private sector, including six years as the Executive Director for United Way Hastings & Prince Edward. In her role Judi managed and provided leadership for all aspects of the organization.
To learn more about Judi and the work she is passionate about visit judigilbert.ca or thenextshift.org
Lunch and coffee break are included in registration, along with a certificate of participation provided by Judi Gilbert.
Early Bird registration is $110 until October 10, 2022,
after that, General Admission is $125.
There are only 24 spots available for this event.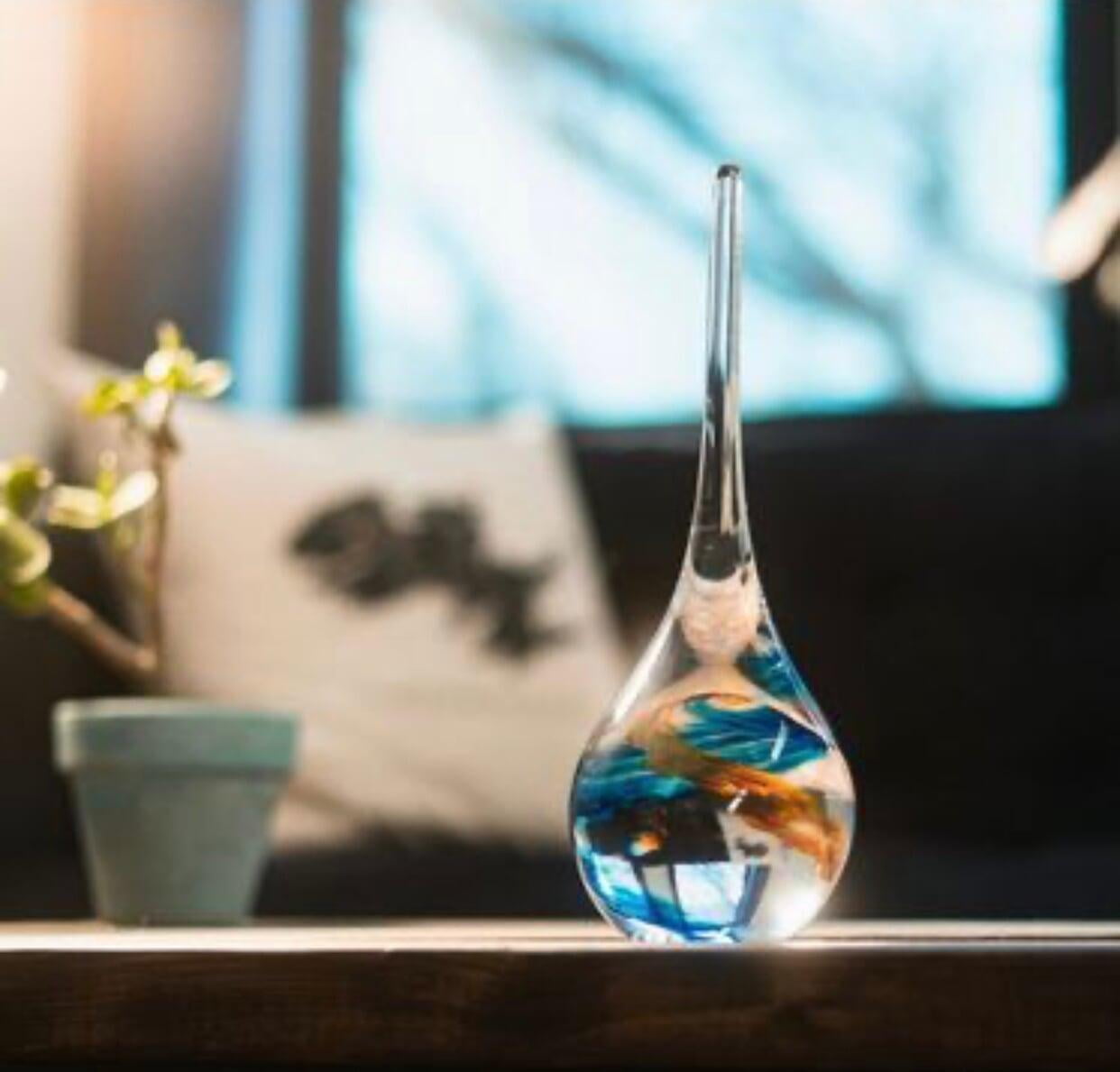 2022 PEC Business Excellence Awards
Thursday 26 January at 7:00pm – Virtual Event
This event and awards ceremony celebrates the contributions of business-people and features organizations that exemplify leadership and business excellence in our community. The Award nominations are based on criteria that include outstanding business leadership, community involvement, entrepreneurship, environmental consciousness, employee welfare, innovation and growth.

Prince Edward County Business Excellence Awards is a completely independent program, open to any business, entrepreneur and not-for-profit organization based in Prince Edward County.
Tickets to go on sale in November